Right from the start, BFPCA has been calling for a night curfew to be introduced at Brisbane Airport.
Australia's busiest airport Sydney has been operating successfully with a curfew, which forms one key component of their multipronged noise abatement strategy helping protect local communities from aircraft noise pollution. After extensive consultation with us as well as community members, BFPCA is pleased to see Adam Bandt MP, the leader of the Australian Greens, introducing the Brisbane Airport Curfew and Demand Management Bill 2022 into the Australian Parliament on 14 Feb 2022. You can watch his speech introducing the bill as well as read the bill following the links below. ABC News have also reported on the bill here.
The Brisbane Airport Curfew and Demand Management Bill 2022 introduces a curfew from 10 pm to 6 am and an hourly movement cap of 45 flights per hour at Brisbane Airport. It also directs the Minister for Transport to instruct Airservices Australia to produce a Long-Term Operating Plan (LTOP) for Brisbane Airport that reduces flight noise, ensures more flights over Moreton Bay and changes flight paths to ensure a fair distribution of air traffic over Brisbane.
A 10 pm to 6 am curfew will ensure every Brisbane resident is able to get a good night's sleep, without being exposed to unhealthy levels of flight noise.
Meanwhile, a flight cap of 45 flights per hour would allow Brisbane Airport to return to pre-pandemic flight traffic, while ensuring they don't grow unsustainably beyond that level.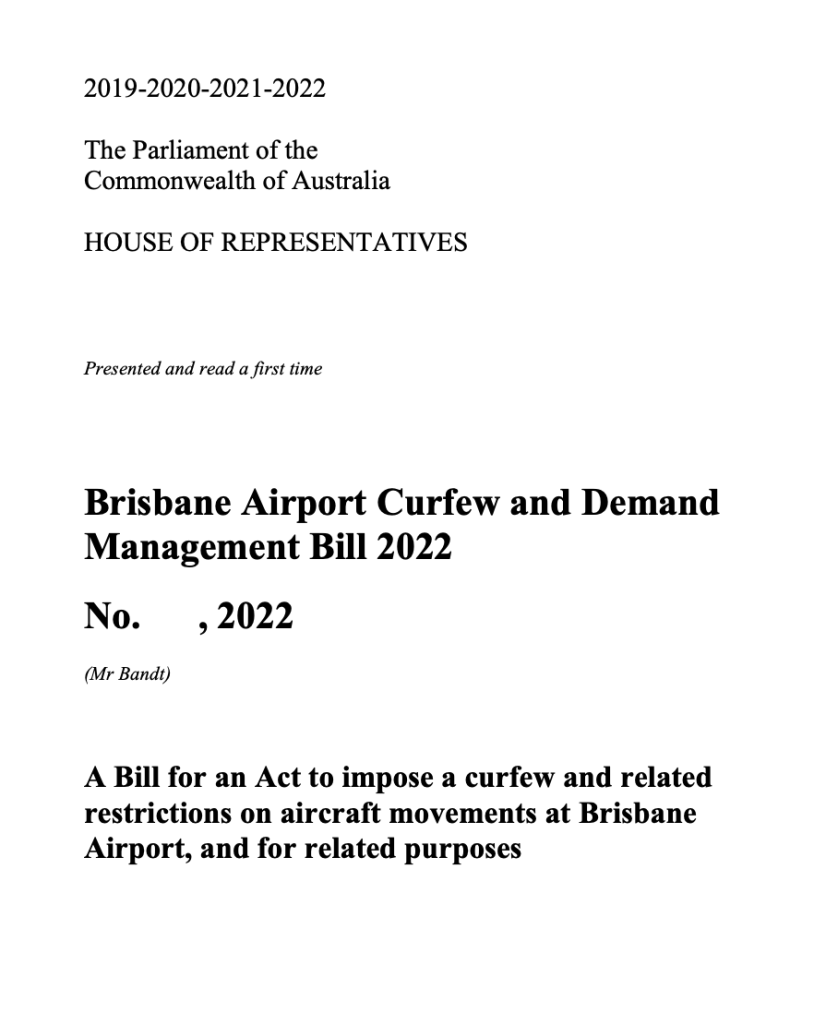 Without a substantial change to flight paths and airport operations, a cap and curfew won't address many of the fundamental issues with Brisbane Airport.
This is why the bill will also force the Transport Minister to implement a Long-Term Operating Plan for Brisbane Airport, which will ensure that better consideration will be given to:
more flights will take off and arrive over Moreton Bay;
a fair distribution of flight traffic over Brisbane that ensures no group of residents is forced to bear the overwhelming majority of flights; and
an overall reduction in flight noise for all Brisbane residents by prioritising flight routes that don't pass over residential areas.
BFPCA agrees that these are reasonable and moderate measures that airports around the world have already adopted. Indeed, it's happening around Australia as well. Sydney Airport already has a Long-Term Operating Plan, a curfew and a cap on flights.
Our key question is: if it's good enough for Sydney Airport, why isn't it good enough for Brisbane?
What is an Airport Curfew?
An airport curfew is a legislated restriction on aircraft operations at a federally-leased airport during a specified time period.

Adelaide, Essendon, Gold Coast and Sydney airports have curfews between 11pm and 6am. While most aircraft operations are prohibited during this period, emergency aircraft, some small jets, propeller-driven aircraft and freight movements are allowed. The curfews limit what aircraft can land and take-off and, in some cases, the runways that can be used.

The curfews are legally enforceable and regulated by the Department of Infrastructure, Transport, Regional Development and Communications, who can make a determination of a curfew violation and prosecute an airline or aircraft operator for breaching a curfew.

Airport Curfews, Airservices Australia