Brisbane is set to outstrip Sydney as Australia's busiest airport and be on par with Hong Kong and Singapore, according to new data analysis from Brisbane Flight Path Community Alliance (BFPCA).
New data modelling shows the true impact on families and residents as a result of Brisbane Airport Corporation's maximisation of capacity. Brisbane Airport Corporation's own forecast aims at 50 million passengers by 2035, or 110 aircraft movements an hour. This is a capacity that far exceeds Sydney and Melbourne and would be on par with Singapore and Hong Kong airports.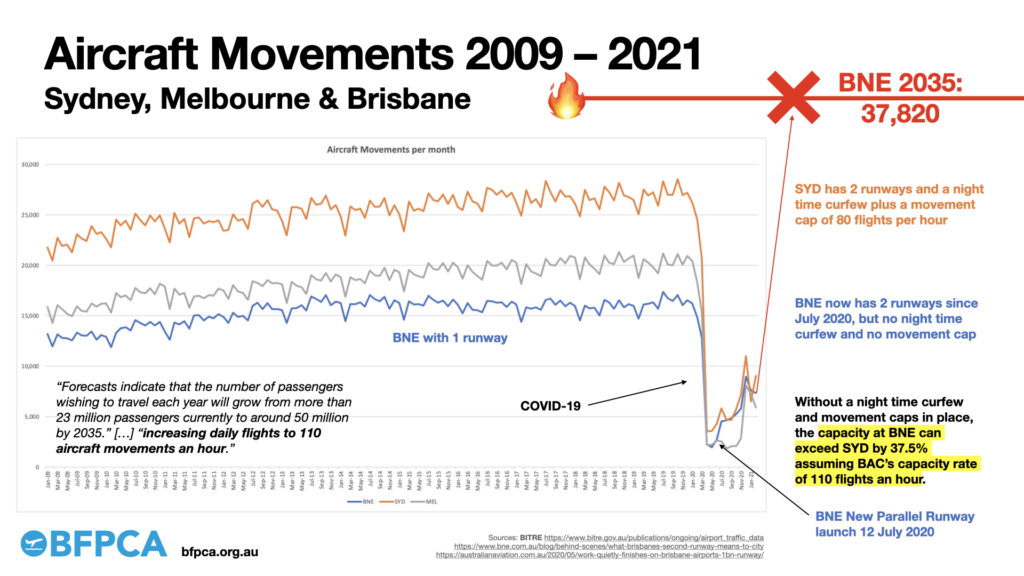 Brisbane Airport Corporation (BAC) is driven by a blueprint vision called the Aerotropolis – BAC is set to transform Brisbane into "a metropolitan subregion whose infrastructure, land use, and economy are centered on an airport," according to its original proponent John Kasarda.
BFPCA modelling based on the Commonwealth Government's aviation data gives a glimpse into Brisbane's not-too-distant future by 2035. David Diamond, chair and spokesperson for BFPCA says, "Brisbane as an Aerotropolis is a city dominated by constant excessive noise pollution everywhere. It will render an outdoor lifestyle impossible. You cannot soundproof New Farm Park."
The forecasting is based on data published by the Australian Government's Bureau of Infrastructure and Transport Research Economics (BITRE) and shows monthly aircraft movements from 2009 – 2021. The graph shows the impact of COVID-19 traffic restrictions.
"It's winter now, and people are more indoors with doors and windows closed. Some may think, it ain't that bad. Well, we have a message for you: You ain't seen nothing yet! The frequency of aircraft movements at Brisbane Airport will more than double once we get back to pre-COVID levels – and that was based on the available capacity with just one runway – now they have two and no restrictions whatsoever," Mr Diamond warns.
While the community outrage and protests in Sydney in 1995 led to the introduction of a federally legislated curfew and a movement cap of 80 flights an hour, Brisbane has no restrictions and no serious noise abatements to protect Brisbane families and communities.
"During the community consultation and in the lead-up to the opening of the second runway, BAC's CEO Gert-Jan de Graaff proudly said the new runway would enable a net decrease of aircrafts flying over the city. Yet, their own statistics tell a totally different tale," David said.
BFPCA calculated the six month average of Brisbane aircraft movements pre-COVID in 2019. Whereas Sydney is capped at 27,505 flights a month, Brisbane can now service more than 37,000 flights a month.
Mr Diamond says, "There were 7,352 total movements at Brisbane Airport in February 2021. The pre-COVID six month average was 16,701. Going back to the old demand would represent a 227% increase compared to the noise impact communities are experiencing now."
"But it get's worse: If we now use BAC's own, widely boasted capacity rate target of 110 flights an hour, that would be a growth rate of 514% by 2035 according to the airport's own projections. So five times what people are experiencing now."
Taking New Farm as an example: There are 2,260 flights a month now. This will go back up to 5,134 a month (171 a day, 11 an hour) if Brisbane Airport gets back to pre-COVID levels based on just one runway. This can now increase further to 11,626 a month.
"This will impact all Brisbane residents, and those who think they have sustained relief under the Legacy flight paths will be equally impacted. The storm is still to come on both runways and the entire airspace across all of Brisbane."
"BAC is turning the City of Brisbane into an Aerotropolis, and who wants to – or even agreed to – live with one flight every 2-3 minutes flying low over their heads and homes 24/7…?" Mr Diamond says.
Mr Diamond adds, "What we are even more worried about is the absence of a Sydney-style curfew in Brisbane, because freight and cargo operate mostly at night, and this seems to be a focus of BAC's growth aspirations."
BAC may struggle to reach those capacity numbers with passenger demand alone, so in parallel to the development of the New Parallel Runway, they rely on cargo and freight investments collocated adjacent to the airport such as TradeCoast Central, the Port of Brisbane, the Queensland Government supported Amazon warehouse, the BAC Export Park, and the inland rail connection to and from Melbourne.
"BAC has continually misled the impacted communities and are now refusing to acknowledge the stark evidence BFPCA have presented, of inaccurate information and the severe negative impacts on the health and economic productivity of residents."
"BFPCA is not anti-aviation, but we remind BAC that they have to be a responsible corporate citizen, and currently they are not demonstrating this value to our community. BFPCA believes BAC has failed to obtain a social licence to operate the airport with such high capacity numbers and no adequate noise abatement to alleviate the impact," Mr Diamond says.
BFPCA demands a new Environmental Impact Assessment (EIS) to be conducted to change the operational mode and flight paths following a new round of community engagement. This step is provided for in the Commonwealth Government's "Significant Impact on the Local or Regional Community Guide," which forms part of the Airports Act 1996. BFPCA also demand a Sydney-style curfew and a total movement cap.
"The more we dig the more we learn our fight is no longer just about the issue of increased noise. The issue now is about a corporation that is willing to inflict unsustainable health, lifestyle and financial impacts on a large section of Brisbane families and communities in its quest for profitability and growth. And a system of governance and regulations that is totally ineffective and incompetent in protecting local communities," Mr Diamond adds.
BFPCA encourage communities to take action and to donate to the Flight Path Noise Fighting Fund.
About BFPCA
Brisbane families and communities have been suffering from excessive noise pollution and associated health and related impacts from Brisbane Airport's new flight paths launched in July 2020. A vast number of community grievances submitted to the Aircraft Noise Ombudsman (ANO) triggered his multiple complaints review that is investigating Brisbane Airport's and Airservices Australia's Environmental Impact Statement (EIS) and its community engagement as part of the flight path design process.
The Brisbane Flight Path Community Alliance (bfpca.org.au) has come together to fight back on behalf of all Brisbane families and communities experiencing this noise pollution. Our survey research and investigations identified flawed and inadequate community engagement and misleading noise modelling.
For more information about BFPCA visit www.bfpca.org.au and join its Facebook Group at facebook.com/groups/BrisAirportNoiseAction
Contact: [email protected]